PolicyMogul a week on: Lessons learned from launching a free political monitoring platform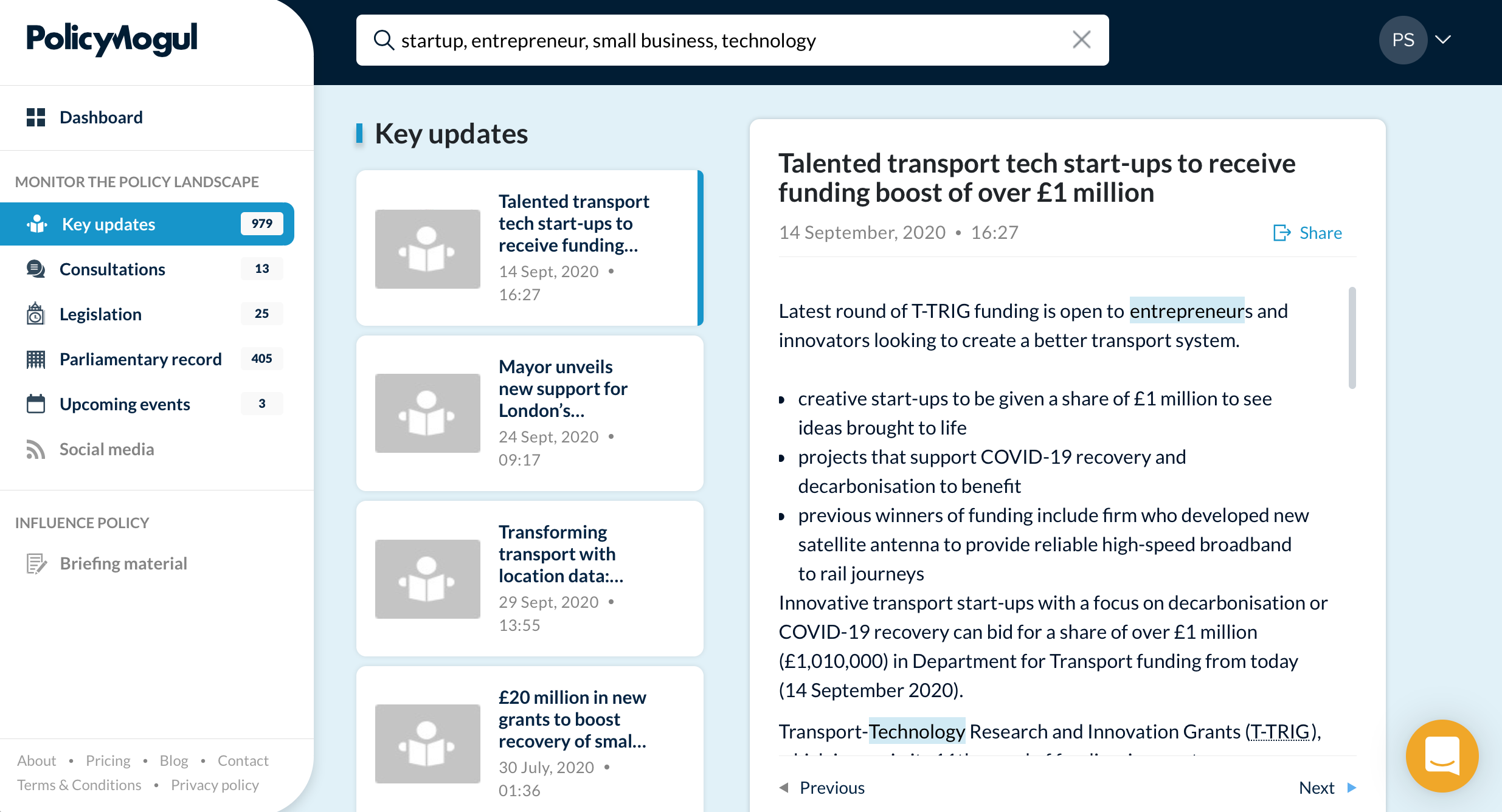 Date posted: 02/10/2020
Launching a new product can be daunting.
When I originally set up PolicyMogul in 2018 I had a clear vision for how technology could improve the way organisations engage with politics and policy-making. We received an enthusiastic welcome from hundreds of public affairs professionals working in smaller organisations, the ones without the deep pockets for traditional public affairs services.
Over the following two years, I spoke to campaigners, public affairs professionals and parliamentarians who support our mission – to help lawmakers and organisations of any size work together to make well-designed policies, laws and regulations.
Listening to users, it was clear we needed to work harder to deliver the value they sought. That fact drove many innovations in the product and we saw some campaigners use it to great effect. But the bigger conclusion was that our original proposition did not provide sufficient value to drive growth.
A change of direction
So earlier this year, we made the hard decision to pivot. We listened to users so we could identify the elements of the original product they valued the most, and decided to shed everything else. We went back to the drawing board, built a new team and rebuilt the core elements of the platform from the ground up.
That work helped us articulate a much clearer PolicyMogul proposition: we make sense of political and parliamentary information for organisations of any size, sector or budget and we keep parliamentarians fully informed of developments in the policy-forming arena.
That's the product we unveiled last week. Offering tech to a sector that has operated in largely the same way for years certainly gives you moments of doubt. Political tech is an active space, with democracy groups and the open government movement driving innovation, and the official websites of parliament, Hansard and other resources being constantly improved. But nothing has emerged that assembles all these different sources and feeds into a single place with search and alerts designed for busy public affairs professionals.
That's where we come in. Our aim is to provide faster, better information and insights to people whose job it is to be in the know about the non-stop flow of political and policy decisions and announcements, the moment they happen.
We spent a lot of time combing through the hundreds of conversations we had with public affairs campaigners and parliamentarians, and found a new direction. But still, you never know how people will react in practice.
That's why we were so pleased to get off to such a great start with the launch of the new platform, both in terms of the first week's signups and feedback from our early users. The technology has held up under the strain. We've already begun to see patterns emerging in people's use of the platform, which will help us to introduce new innovations within a matter of weeks.
We've also been impressed by the variety of organisations represented by our new registered users. We had always imagined a free parliamentary monitoring tool would be a no-brainer for small charities and businesses, but we have also seen uptake by professionals working in large corporations, industry trade associations, large charities and premier league public affairs agencies.
I'm now confident that we are developing something the industry needs. 
To repay this initial surge of interest, we're committed to improving further – starting with our search function and the algorithms that deliver relevant results, plus new ways to stay connected to the fast-changing policy environment.
Please keep using PolicyMogul and let us know how it could be improved to meet your specific requirements. Contact us at any time if you'd like to share your feedback.