It's time to go beyond political monitoring: sentiment is next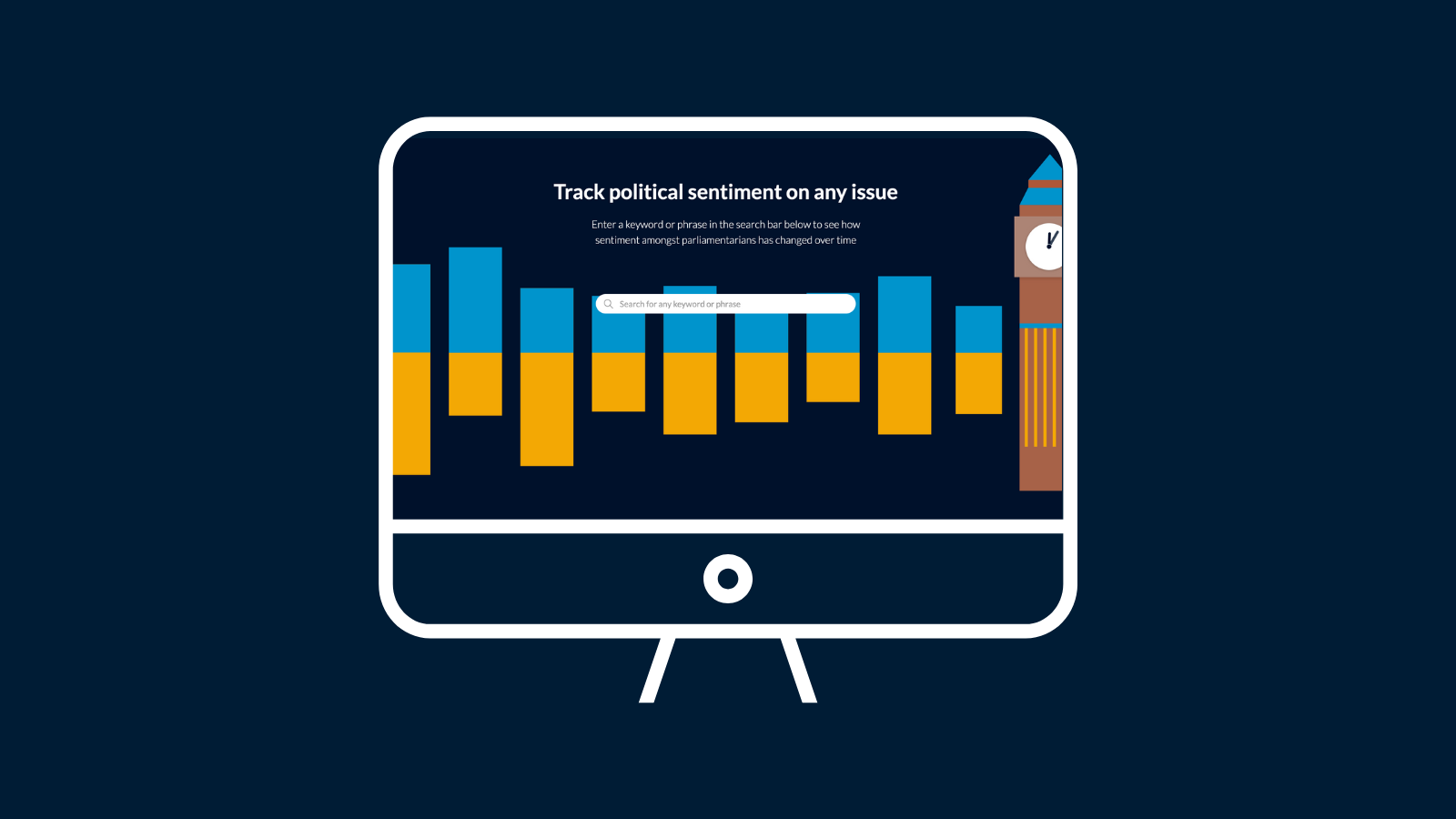 Date posted: 20/10/2022
by Stuart Thomson
Information is the lifeblood of public affairs. Knowing what discussions are taking place is just the starting point; understanding sentiment can take your public affairs activity to a new level.
There is no doubt that public affairs can sometimes be a little old-fashioned. There are good reasons why briefing papers and face-to-face meetings are effective but the opportunities afforded by technology make the difference between expressing your views and actually having them heard.
Of course, personal relationships are important as they provide political understanding and intelligence, but all activity needs to be built on a solid basis of information.
This intelligence can be drawn from a number of sources, starting with what has been happening in Parliament. We need to know who is interested in our issues, who should be interested, what parliamentary activity there has been and what has been said.
Role of sentiment
However, technology allows us to take that a step further, and it is not just a case of following debates – PolicyMogul has developed a feature to help analyse sentiment as well. Essentially, the tool looks at parliamentary activity to show whether parliamentarians are talking positively or negatively about an issue or organisation. It also shows how sentiment has changed over time. Has it been positive, negative or neutral?
Using this data, it is then possible to drill down further to look at how political developments from a given month may have specifically impacted sentiment.
That is of value because it enables us to be better informed in the advice we give, for instance to clients, and shapes strategy development. Of course, we can build on the positive but more critically, we can address the negative. Actions undertaken can be more specific and better tailored.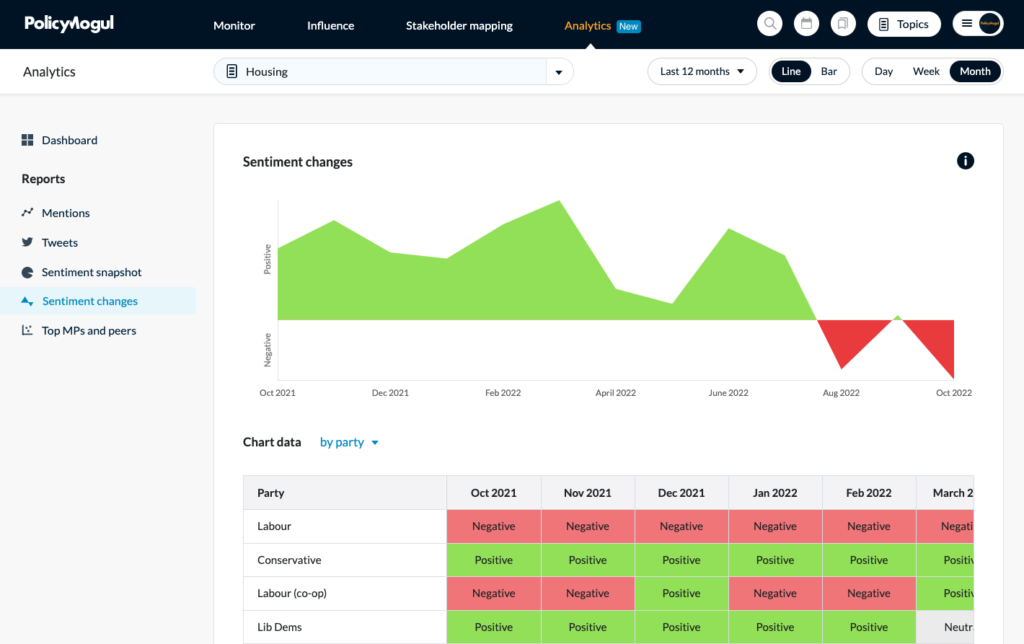 Actions
As with all aspects of information gathered in public affairs, having it is only the first step. The information itself is not enough; the critical element is what you do with it.
We move along the path of building positive sentiment in a number of ways:
Providing information to audiences
Addressing concerns
Challenging misconceptions
Being available to discuss and respond to issues
Delivering solutions
These actions build trust which in turn leads to more positive sentiment and outcomes.
Gathering this information should also embolden us to ask ourselves difficult questions. Negative sentiment may come from a lack of understanding but it can also arise because of poor behaviour by an organisation or individual, not putting right issues of past failures, a consistent failure to deliver, or a poor reputation. Becoming aware of these issues may require us to look inside our own organisations and challenge ourselves. It is not simply about believing that better communications can solve all ills.
Indeed, the negative sentiment in a sector could be caused by the actions of others, and you may simply be guilty by association. Alternatively, the problem may be caused by an industry-wide failure which everyone has a role to play in rectifying.
The dangers
It is important to recognise that if negative sentiment is not addressed then significant problems can arise. Unhelpful comments from politicians, damage to reputations and new laws or regulations can seriously impact on success. Politics really matters.
The longer the problem persists, the more likely significant damage will occur.
A real positive
Applying sentiment analysis to public affairs helps to address the age-old concern of KPIs. Anything that provides more data and stats that can be measured over time is to be welcomed.
Tracking sentiment can help us see whether our actions have been successful. If they have, then we know we are undertaking the right sort of activity. If not, then consider how to change tack.
Public affairs professionals should not be afraid of KPIs. Sentiment analysis is part of a natural progression for the public affairs community – especially now that the technology exists to put it in all our hands.
Stuart Thomson
Stuart is a public affairs and communications specialist advising clients on their political and corporate communications, and reputation management. He has also worked on a number of high-profile media relations and crisis communications programmes.
Stuart is a CIPR Chartered PR Practitioner (Chart. PR) and an honorary research fellow at the University of Aberdeen. He is the author of several books including the recently published, 'Reputation in Business: Lessons for Leaders'.
Stuart regularly writes and lectures on a range of business and political issues. He is an adviser to the Entrepreneurs Network (TEN) and a regular speaker and chair at conferences.