Increase website engagement with an embedded feed of political updates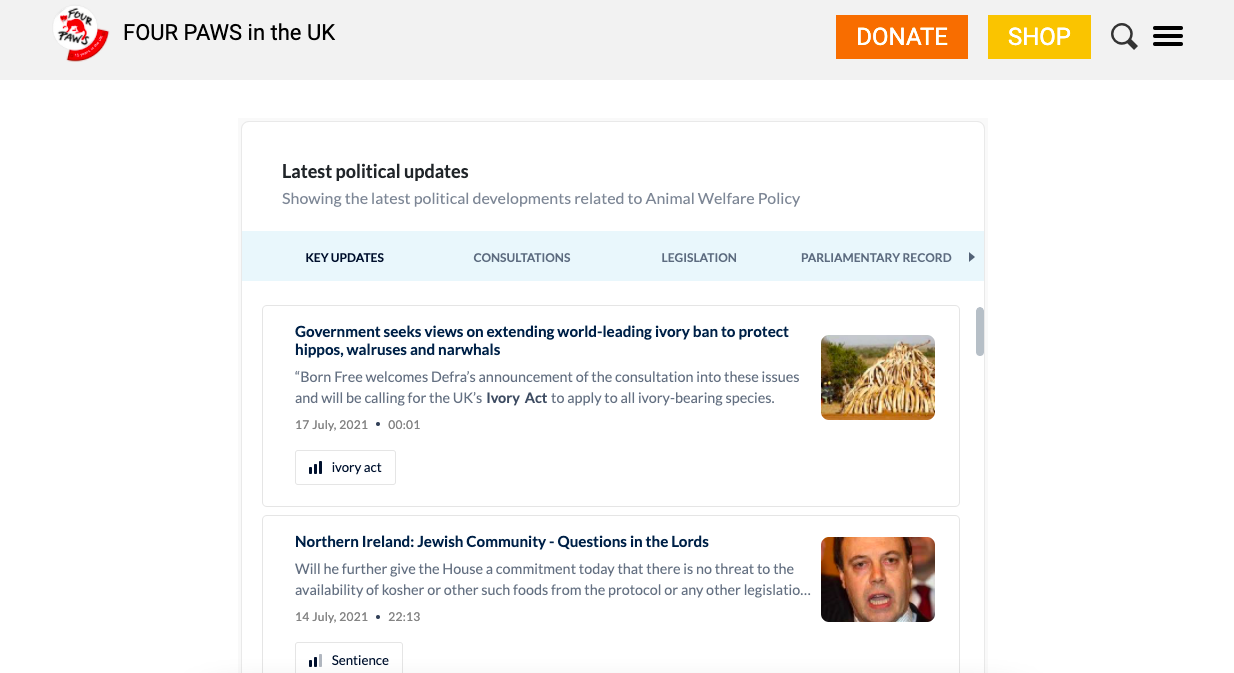 Date posted: 28/07/2021
Attracting people to your site is hard enough. Getting them to stay, buy your product, donate to your cause or read your latest updates is even harder.
About one in two people who finally land on your website will leave without clicking a single thing except the 'x' to close the tab.
And it gets worse for charities. The average bounce rate for non-profits is 60-70%.1
More engagement means more purchases, donations and support
Every minute someone spends on your website, every click, every page view – all of these things lead to an exponential increase in the chance of purchase, donation or support for your cause.
In fact, a web usability study found that if you can get a user to stay on your page for 30 seconds, there's a good chance they'll stay for two minutes or more.2
The bad news and the good news (Hint: The good news is PolicyMogul)
You already know the bad news: It's hard. There are so many elements to a good, engaging website. You don't have time to keep updating the site with new content and even if you did – what content?
The good news? PolicyMogul now makes it easy (we mean 5-minute easy!) to keep your website updated with live, political developments related specifically to your business or cause.
Simply choose the keywords you want to monitor, and decide what should happen when someone clicks on an update in your feed. We'll then automatically generate the code for you or your developer to add to any page of your website.
Don't just take our word for it
Global animal welfare charity FOUR PAWS has already seen the benefits just a few days after embedding a feed at the bottom of their policy page.
FOUR PAWS UK's Head of Campaigns Emily Wilson says: "We are delighted to be working with PolicyMogul. Not only does it ensure we are up to date on all elements of animal welfare legislation, but we can keep our supporters informed too. Together we can create a unified front calling for FOUR PAWS' vision of a world in which humans treat animals with respect, empathy and understanding enshrined in UK law."
If you want to add a feed to your organisation's website, try it for free today.
https://www.williamswhittle.com/digital-analytics-that-matter/
https://www.nngroup.com/articles/how-long-do-users-stay-on-web-pages/